The Black Submissive Woman
"well, you're a rare jewel on this site...as well as in the lifestyle. that means in spite of you wanting a brother, i'm sure you get contacted by everybody, women alike. you're a rarity and as some of us look at your profile and are brothers, you're a dream come true because you specify your want for us and challenging any of us to tame you and you like shibari. a gorgeous sister tied up in a house somewhere is always a dream come true." BKA

That was a message i received from an African American Male/Dom on another site. He was very impressed with my profile and His profile was dark and intriguing as well.
Not until now did I realize how important submission is in a relationship between a man and a woman. Although it is biblical...not sure if BDSM is involved in that but submission is very important in the "harmony" of a relationship. Not dictatorship but submission.
African American woman are very strong grounded women. We have to be. We have natural attitudes and beliefs that keep us alert and focused on protecting ourselves, self respect and our families. Life has bread us to be strong willed and strong minded. Sometimes, we can be "to much" for a man who is not capable of handling a dominate female and there is a clash of will, chaos, bitterness and anger.
A submissive African American woman is truly a rare jewel. It is not because she submits to her man because she is clueless, mindless, and a child or weak. She submits because she is strong.
I've talked to many African American Doms and it has been Their experience that white women naturally submit without to much problem. Is it because white women have lived a different life than we have? I think so.
I know that many African American men want his African American woman to be submissive to him...not fight him. He will be entrusted to make sure that all is well with his domain and take in consideration all of her feelings. It is a huge responsibility that men have anyway. They were bread for that. Somehow we have gotten away from it. If the man is mature and a true provider or care taker of his family or relationship he is required to guide them, protect them and keep them on a safe, secure, and fufilling path.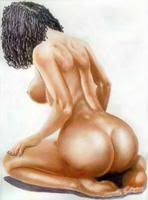 "If a black woman submits to you, you have received a most cherished gift. You are entrusted to keep it, love it, and protect it."
Terminology/Keywords
black woman
submissive
Articles